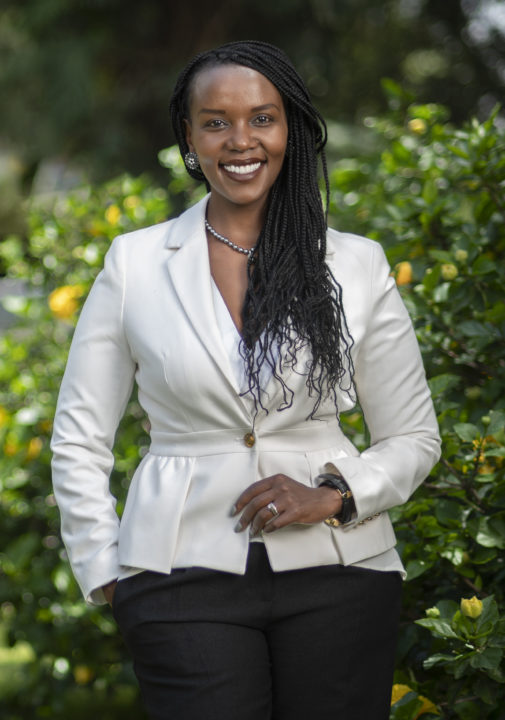 Areas: Runda, Muthaiga North, Gigiri & Ridgeways - Sales
Division: Residential Sales
Phone: +254 726 487 212
Email: caroline.malenya@pamgolding.co.ke
Hi, my name is Caroline and I've been working with Pam Golding Properties in Nairobi, Kenya since April 2015. I am your Sales property consultant in Runda, Gigiri, Rosslyn, Ridgeways, Garden Estate and Muthaiga North.
When I'm not giving superior service to my clients in the property department, you can find me taking a hike, playing with my kids or watching a good movie. I also enjoy taking long drives to enjoy our lush, magical countryside.
I love the changing landscape of the area I work in. The conversion of massive coffee plantation farms into real estate housing is an indication of the growing need and demand for housing and it is exciting to be part of the dynamism of the industry. It is fulfilling to be able to guide my clients through the sometimes volatile market trends, and being able to offer a personal touch to my clients, gives me great pleasure.
Having worked in the Pharmaceutical Sales Industry for years, I understand that product knowledge is everything. Understanding the property market and being an expert in your craft to be able to effectively provide customer service, coupled with a passion for what you do, is a surety to have clients for life. This is what I bring to the table. My clients can be assured of honesty, transparency, and commitment to treat their most important assets with the utmost professionalism.
Since joining the company, I have met my sales quotas year after year. Having hit the 1Billion in Sales volume this year gives me great satisfaction. I have also won the coveted 'Rookie Agent of the Year" award, and went on to be awarded GoldClub agent status in my 2nd year in the business.
It is my job to be able to assist families to find a new home especially the ones that are new to the country and need assistance in navigating new lands and cultures. The property market can be complex, with changing demand and supply, and the ebb and flow of interest rates in Kenya.
It is therefore vital to have a property consultant with the expertise to educate clients; whether sellers or buyers so they can make well informed decisions. What I enjoy most about my job is that every day is an adventure! I love the diversity in the people I meet daily in my line of work, and most of all, there is nothing more fulfilling that a happy customer!